When you're looking for high-quality medical tattoo supplies, your source for trusted supplies, service, and more is Element Tattoo Supply! From inks and needles to aftercare supplies and medical supplies to ensure that your clients are safe and healthy, Element has everything you need. Whether you're an individual tattoo artist stocking up on your personal supplies, or you're placing an order to replenish your shop's supplies, Element Tattoo Supply has the items you need for prep, during your sessions, and afterward, too! Learn more about our medical tattoo supplies by reading more here, or get started shopping today!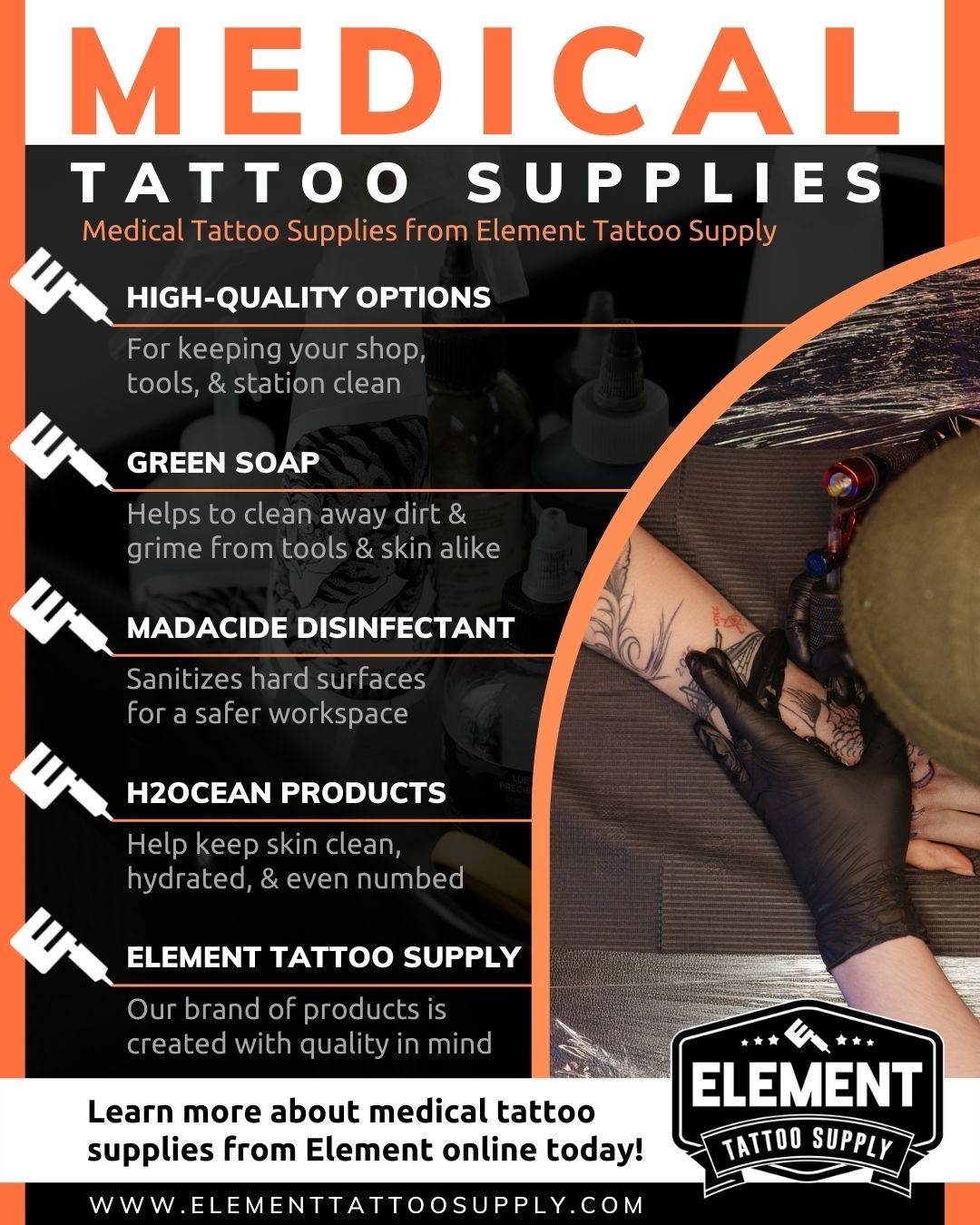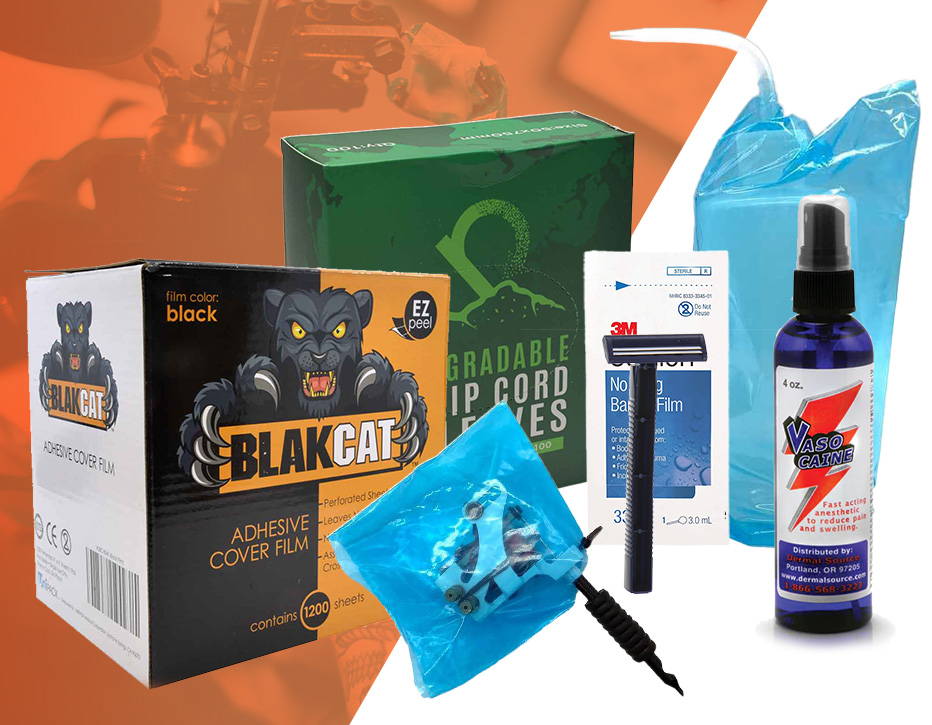 When you're shopping for supplies to stock your cart or your shop with, you want to be sure that you're finding the right products for your needs. That's why Element Tattoo Supply offers a wide selection of high-quality tattoo supplies, including medical tattoo supplies and tattoo hygiene supplies for professionals. Whether you're looking for generic items or a specific brand, we're here to help with high-quality options to set you up for success in providing the best art for your clients. Shop through our selection of medical and hygiene tattoo products today.
When you need to have a clean and sanitized environment for your tattooing, green soap is your number one choice! From cleaning your tattooing tools to cleaning accessories and even prepping your client's tattoo area, tattooing green soap is crucial to keeping everything clean and free of dirt, grime, and germs. At Element Tattoo Supply, we have a wide selection of green soap, from eight ounce bottles of Element's own brand to gallon bottles, you can choose your size of concentrated tincture, foam cleansing solutions, and so much more.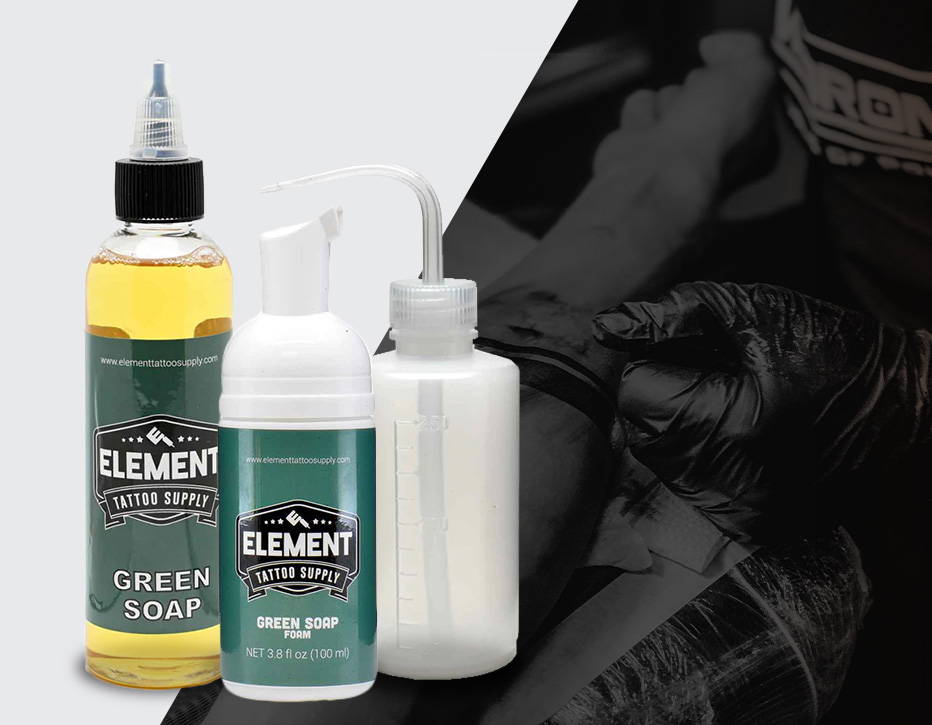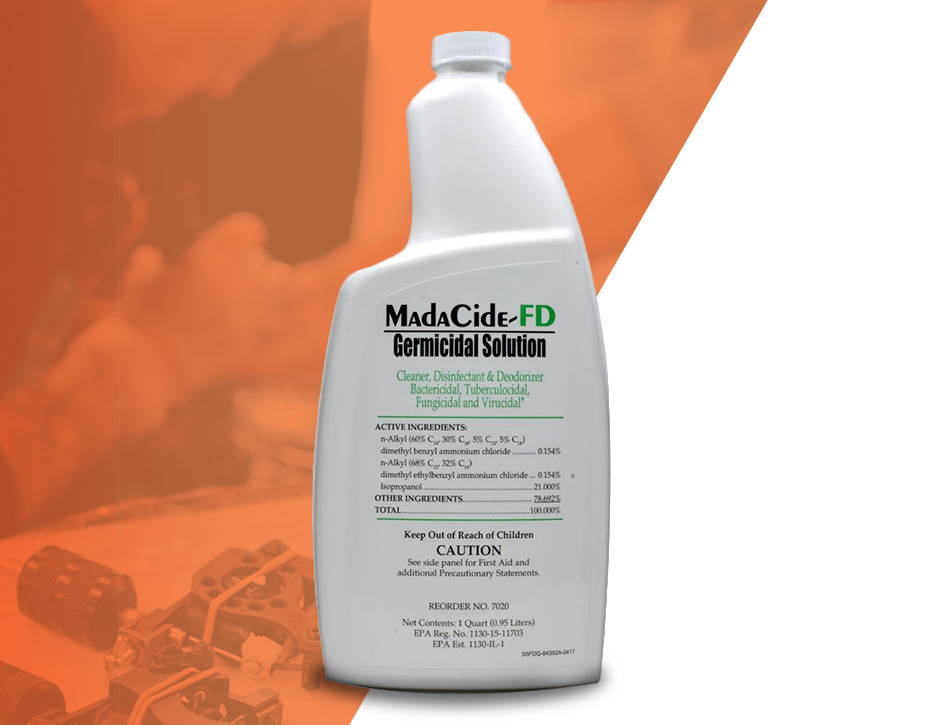 As a professional tattoo artist, you know the dangers of not disinfecting your tools, the tattoo area, and more. That's why Element Tattoo Supply offers MadaCide Disinfectant options to help you keep everything clean and ready to go for your clients! These disinfectant products will help you to effectively clean, deodorize, and sanitize against germs and bacteria on hard surfaces, so you have trays, tools, and setups ready for use at any time. Shop our selection of MadaCide products online today to get high-quality disinfectant for your station or your shop!
One of the most important parts of medical care for tattoos is, of course, skin care! H2Ocean is one of the many medical tattoo supply brands that we carry to help you provide high-quality aftercare, skin care, and pain relief to your clients. From their Blue Green Foam Soap that you can use to clean tattoos once you're done to pain relieving soap with lidocaine to help clean and numb the areas you're working on, Element Tattoo Supply has the H2Ocean products you need. Shop our selection of H2Ocean products here to get everything you need for your aftercare needs!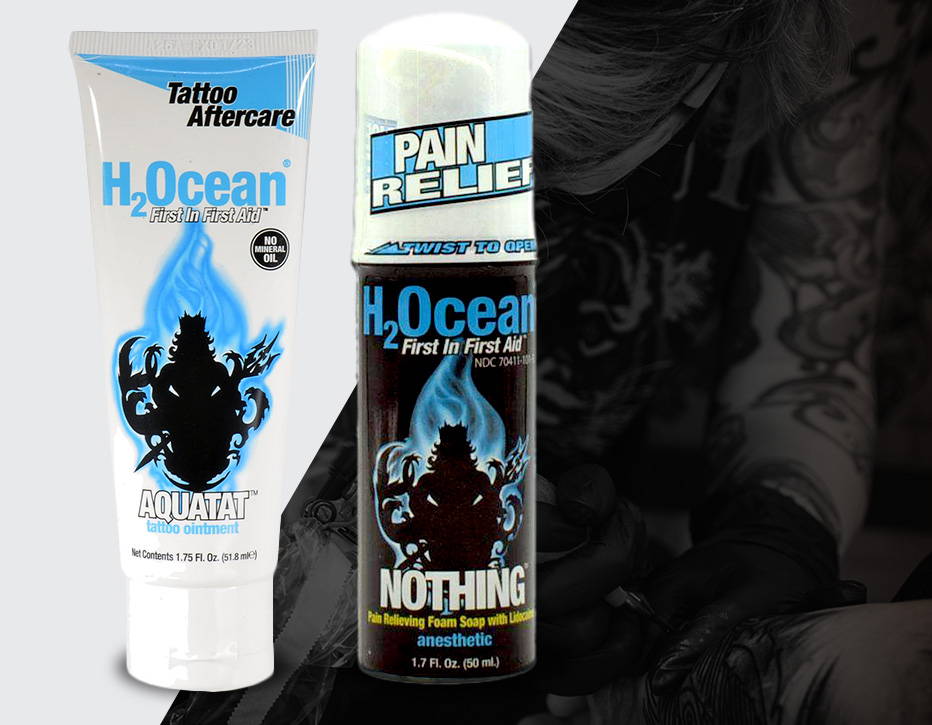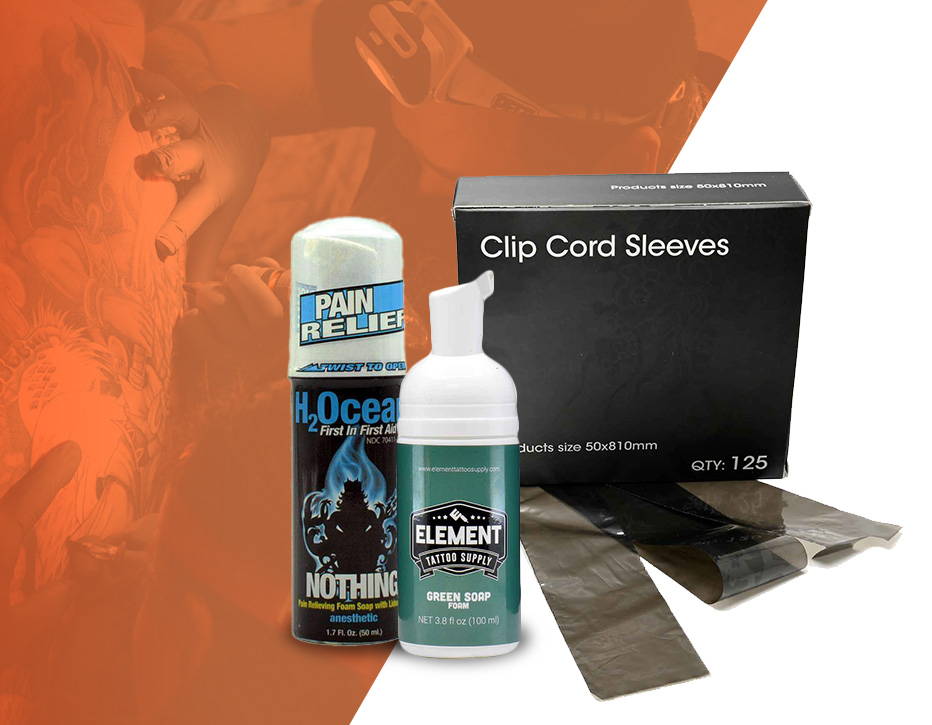 Why Medical-Grade Supplies Are Important
Of course, it's great to get high-quality medical tattoo supplies for your shop or your own personal station, but why are high-quality supplies important? In the modern world of tattooing, many clients are choosing artists more carefully, and many are focused on finding an artist who prioritizes hygiene, quality, and comfort. While that's not always the case for clients, ensuring that you have high-quality supplies to help you provide the highest quality tattoos and piercings can help you to attract a wider audience. In addition to attracting new clients and return clients, high-quality medical tattoo supplies help you ensure that your station is sanitized and ready at all times. Medical tattoo supplies from Element can also ensure that you're keeping your clients safe from potential infections and that your artwork will heal faster and better without fading or scarring. When your tattoos heal better and last longer, you're working to lessen the need for touch ups and presenting a better example of your work to the world on your client's skin!
Your Source For High-Quality Tattoo Supply
At Element Tattoo Supply, we're dedicated to creating a great experience for our customers so you, in turn, can provide a great experience for your clients! From high-quality medical tattoo supplies to ensure that your station, shop, and tools are safe and ready for use, to high-quality inks, needles, and everything in between, we're here to stock you up with the best supplies! Are you an artist looking for personal supplies to stock up your station? We have great prices and don't require large quantities to place your order. If you are interested in placing bulk orders, we can also help! We will work with you to ensure that you have everything you need to create beautiful, healthy, and long-lasting art for your clients so they leave your tattoo shop raving about their experience and loving their new art!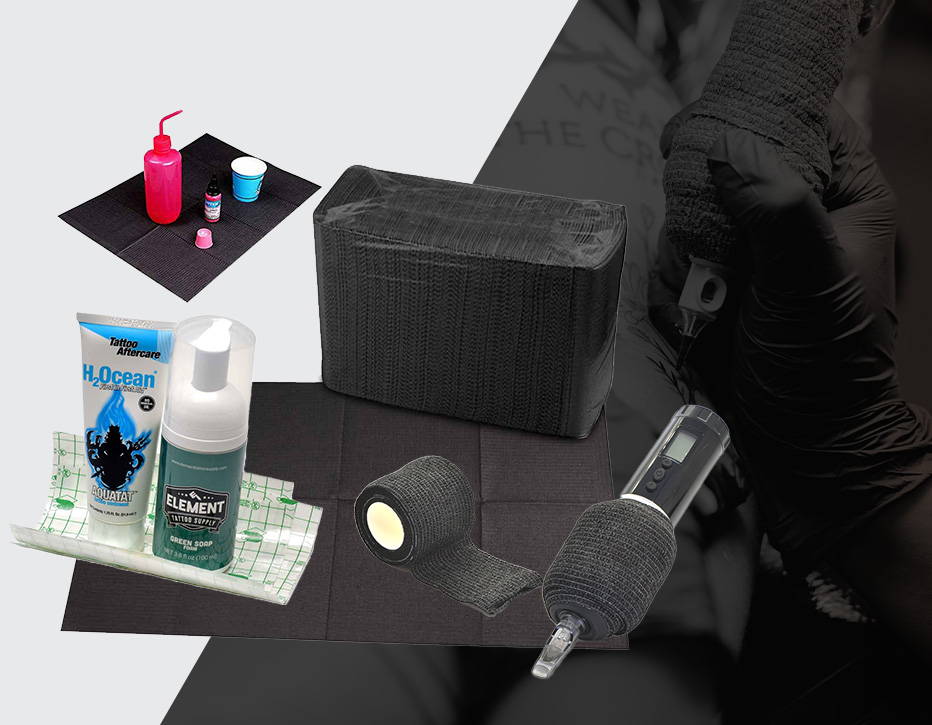 Element Tattoo Supply is a top choice for discerning artists and shops who need high-quality medical tattoo supplies and more. Founded, owned, and operated by tattoo artists based in the USA, we manufacture and distribute our exclusive brand of Element Tattoo ink, needles, cartridges, kits, and medical tattoo supplies so you have everything you need to be the best artist you can be. We've worked hard to earn our reputation and trust from the tattoo industry and will work to deliver not only high-quality medical tattoo supplies, but also the best customer service in the business. Learn more about our team, visit our FAQ page, or get started shopping for your supplies today!